Grant Funding Update A total of 409 grants awarded as of 2023 with the total amount awarded of over $466,012.00
A total of 409 Grants have been awarded as of 2023. The 2023 grants were awarded to help support the following projects sponsored by community members and organizations:
Amani Family Services – To provide staff trainings in trauma and PTSD (post-traumatic stress disorder) management through two programs: Seeking Safety and EMDR, (Eye Movement Desensitization and Reprocessing) that would be directly applied to work in the Victim Care and Counseling programs for immigrants and refugees.
McMillan Health – To provide preventive health education sessions focused on Life Skills and pregnancy prevention to Allen County Youth in grades PreK-12.
Solid Foundation Learning Center – To provide experientially virtual scenarios through trauma-informed teaching, that will allow students to make positive choices related to incidents that trigger traumatic experiences and relieve stress.
St. Joseph Missions – To provide emergency shelter to women who need a safe place to stay, while meeting basic needs and providing care towards developing the skills needed to address the causes of homelessness.
Wellspring Interfaith Social Services, Inc. – To provide Youth Summer Day Camp for children from various socioeconomic backgrounds, thus creating opportunities for low-income families to participate in activities designed to stimulate intellectual curiosity and foster learning using fun, non-traditional methods with hands-on activities.
Women's Fund of Greater Fort Wayne – To provide an Allen County Women in the Workplace Report, informed by survey responses from local employers to evaluate where women stand when it comes to leadership, compensation, flexible work environments, and hiring and promotion practices in the local workforce.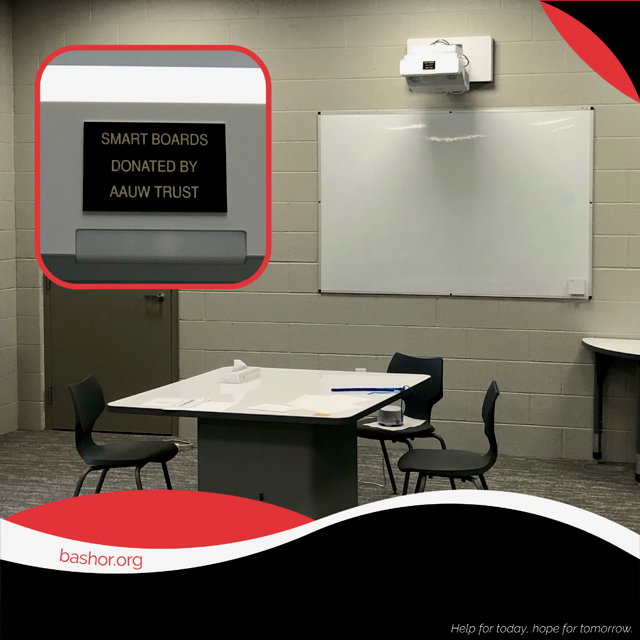 Photo caption: 2022 grant award winner, Bashor Children's Home/United Methodist Church proudly displays their smart boards donated by AAUW Trust.